Steve Coleman à La Petite Halle : deux semaines de rêve en octobre !
30 May 2023 #Concerts
On en rêvait, La Petite Halle de La Villette l'a fait : ouvrir ses portes deux semaines durant au saxophoniste le plus important de ces trente dernières années. Une résidence exceptionnelle qui donnera l'occasion au public de (re)découvrir les diverses formations emmenées par the one and only Steve Coleman – Five Elements, Natal Eclipse, Metrics –, qui sera entouré de ses fidèles side(wo)men, de Sean Rickman à Jonathan Finlayson en passant par Matt Mitchell et Kokayi, mais aussi Sylvaine Hélary ou Sélène Saint-Aimé.
Certaines soirées verront également défiler des formations "amies", le Washington Trio Tree, emmené par un membre historique des Five Elements, Reggie Washington, et la Magic Malik Fanfare XP (« He is one of us », avait dit un jour en concert Steve Coleman à propos de Magic Malik, qui a souvent joué et enregistré l'altiste chicagoan). Promesses de jam sessions et de retrouvailles forcément excitantes...
Ceux qui étaient au Hot Brass lors des folles soirées de 1995 se souviennent encore des fantastiques concerts de Steve Coleman And Five Elements et de Steve Coleman And Metrics. Nul doute que les treize (!) soirées de La Petite Halle de La Villette entreront à leur tour dans l'histoire. Ne manquez pas ça ! •
"Steve Coleman Paris Residency"
Du 6 au 19 octobre 2017
La Petite Halle de La Villette
www.lapetitehalle.com
Parc de La Villette
211, avenue Jean Jaurès 75019 Paris
Tél : 09 82 25 91 81
Métro : Porte de Pantin (ligne 5)
Tram : Porte de Pantin (ligne T3b)
1er set : 20h30
2nd set : 22h15
Passe 3 concerts : 65 €
Passe 5 concerts : 95 €
LES TREIZE CONCERTS :
6 octobre (30 €)
2 sets : Steve Coleman And Five Elements


 7 octobre (30 €)
1er set : Washington Trio Tree
2e set : Steve Coleman And Five Elements

8 octobre (25 €)
1er set : Washington Trio Tree
2e set : Steve Coleman And Five Elements

9 octobre (25 €)
2 sets : Steve Coleman And Five Elements

10-11 octobre (25 €)
1er set : Steve Coleman And Five Elements
2e set : Steve Coleman And Metrics
13-14 octobre (30 €)
1er set : Steve Coleman's Natal Eclipse
2e set : Steve Coleman And Metrics
15-16 octobre (25 €)
1er set : Steve Coleman's Natal Eclipse
2e set : Steve Coleman And Five Elements

17 octobre (25 €)
1er set : Magic Malik Fanfare XP
2e set : Steve Coleman And Five Elements

18 octobre (25 €)
1er set: Magic Malik Fanfare XP
2e set: Steve Coleman And Metrics
19 octobre (30 €)
1er set : Steve Coleman And Five Elements
2e set : Steve Coleman And Metrics
GROUPES
Reggie Washington Trio Tree
Reggie Washington : Basse
Jozef Dumoulin : Claviers
Sean Rickman : Batterie
Magic Malik Fanfare XP
Malik Mezzadri : Flûte
Vincent Sauve : Batterie (17 octobre)
Maxime Zampieri : Batterie (18 octobre)
Maïlys Maronne : Mélodica
Alexandre Herer : Fender Rhodes
Johnathan Joubert : Guitare
Kevin Lam : Guitare
Pascal Mabit : Saxophone
Maciek Lasserre : Saxohone (17 octobre)
Denis Guivarch : Saxophone (18 octobre)
Olivier Laisney : Trompette (18 octobre)
Johan Blanc : Trombonne (18 octobre)
Steve Coleman And Five Elements
Steve Coleman : Saxophone alto
Jonathan Finlayson : Trompette
Matt Mitchell : Claviers
Anthony Tidd : Basse
Sean Rickman : Batterie
Steve Coleman And Metrics
Steve Coleman : Saxophone alto
Jonathan Finlayson : Trompette
Kokayi : Chant
Anthony Tidd : Basse
Sean Rickman : Batterie
Steve Coleman's Natal Eclipse
Steve Coleman : Saxophone alto
Jonathan Finlayson : Trompette
Sylvaine Hélary : Flûte
Catherine Delaunay : Clarinettte
Johan Renard : Violon
Hugues Mayot : Saxophone ténor
Matt Mitchell : Piano
Sélène Saint-Aimé : Contrebasse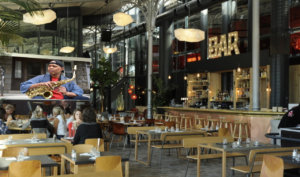 Pour voir le contenu en entier, cliquez ici :
S'abonner